Мультимедиа
Aneesoft DVD Creator 2.0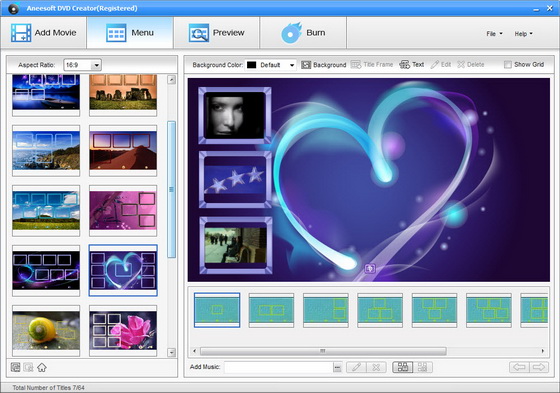 Aneesoft DVD Creator - программа для создания и записи DVD, которая позволяет импортировать различные форматы видео (даже HD-видео), такие как AVI, MP4, WMV, FLV, DivX, VOB, MKV и M2TS, а также создавать DVD папки и файлы ISO образов. Программа также включает в себя встроенные средства редактирования видео, такие как обрезка видео, добавление текста, водяных знаков и эффектов. Кроме того, вы сможете создать стильное DVD меню, добавить фоновую музыку или воспользоваться множеством встроенных тематических шаблонов для меню.

Key Features
Create DVD movies from HD/SD video formats
Aneesoft DVD Creator helps you to create DVD files from many common video formats and even High-Definition video formats, such as AVI to DVD, MP4 to DVD, WMV to DVD, MKV to DVD, MOV to DVD, M2TS to DVD, MPEG to DVD, FLV to DVD, VOB to DVD etc.
Make quick edits with built-in editing tools
Aneesoft DVD Creator's built-in video editing tool allows you to either crop to remove the unwanted parts, trim time-length to set the start time and duration, add text/ image watermark to claim your rights or add special effects to make your videos very personalized.
Burn videos to DVD disc, DVD folders and ISO image files
Aneesoft DVD Creator enables you to import and burn different video formats e.g. HD Camcorder AVCHD videos to DVD disc, as well as creates DVD folders and ISO image files.
Set Aspect Ratio for better visual effect on TV
Select a most suitable aspect ratio for better viewing on your TV, select 4:3 for a regular TV and choose 16:9 for a wide screen TV.
Burn to DVD disc with stylish DVD menus
Uniquely designed templates are available here for you to easily create a DVD menu. You can also save your own collections and use just the effects you want for outputting to DVD discs.
Edit to create a professional-looking DVD menu
With its built-in editing features, you can edit the DVD menu by add a text to describe the videos or change a title frame for better viewing. You are also allowed to change a background image and choose a most favorable play button for your DVD menu.
Add music to personalize your DVD menu.
You are allowed to add either a favorite song or a dialog you've recorded as the background music for your DVD menu templates. This helps you to better customize your home movie DVDs for sharing with friends and family.
Preview before creating DVD files.
Before creating DVD video files, you are also allowed to preview the self-made DVDs with this DVD Creator's built-in player.
Add up to 60 videos at a time for burning to DVD files
Aneesoft DVD Creator allows you to add up to 60 videos at a time for burning to DVD files, the added videos will be automatically generated to several chapters.
Show Grid for perfect alignment
To accurately control your DVD menus, tick the box "show grid" to show the grid for better arrange of the title frame, play button and the added text.
ОС: Windows XP, Vista, Windows 7
Скачать программу Aneesoft DVD Creator 2.0 (23,2 МБ):
ITSS
10/12/11 Просмотров: 1211
0