Разное
Stellarium 0.14.78.1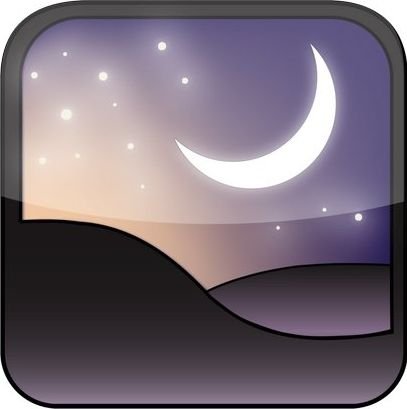 Stellarium
— свободный планетарий для Вашего компьютера с открытым исходным кодом. Он отображает реалистичное небо в 3D таким, каким Вы видите его невооружённым глазом, в бинокль или телескоп. Просто введите свои координаты и исследуйте небо!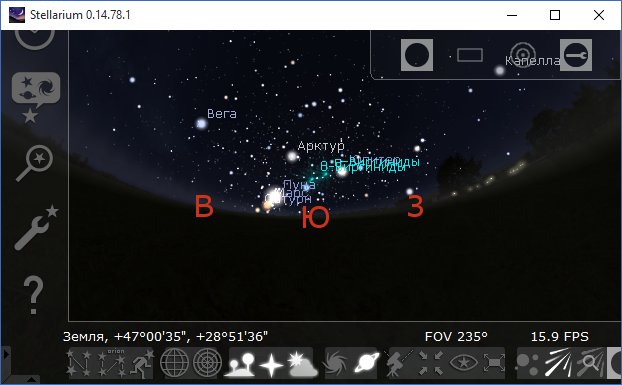 Особенности программы:
Небосвод
Стандартный каталог с более чем 600,000 звёзд.
Дополнительные каталоги с более чем 210 миллионами звёзд.
Звёздные скопления и изображения созвездий.
Созвездия 13 мировых культур.
Изображения туманностей (полный каталог Мессье).
Реалистичный Млечный Путь.
Очень реалистичная атмосфера, закаты и рассветы.
Планеты и их спутники.
Интерфейс
Мощное масштабирование.
Контроль хода времени.
Многоязычный интерфейс.
Проекция "рыбий глаз" для проецирования изображения на купол планетария.
Сферическая зеркальная проекция для Вашего личного низкобюджетного купола.
Новый графический интерфейс и развитая система управления с клавиатуры.
Управление телескопом.
Отображение
Экваториальная и азимутальная сетки.
Мерцание звёзд.
Метеоры.
Симуляция затмений.
Ландшафты с поддержкой скинов, теперь со сферической панорамной проекцией.
Настраиваемость и расширение
Система плагинов добавляет показ искусственных спутников, симуляцию окуляра, управление телескопом и много другое.
Возможность добавления новых объектов солнечной системы из интернета...
Добавление собственных космических объектов, ландшафтов, изображений созвездий, сценариев...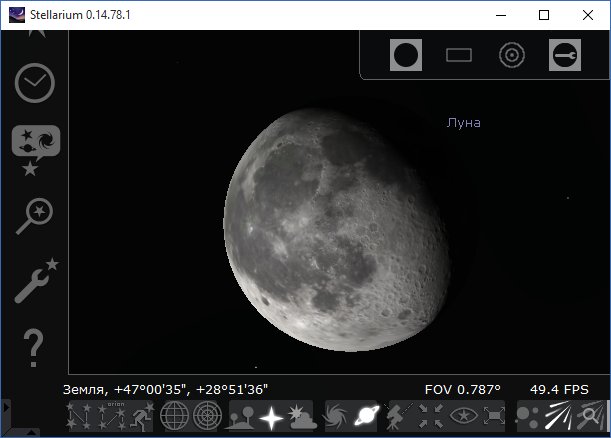 Изменения в версии:
Added getting planetary positions from JPL DE430 and DE431 ephemerides (SoCiS2015 project)
Added immediate saving of settings for plugins (Angle Measure, Archeo Lines, Compass Marks)
Added Belarusian translation for landscapes and sky cultures (LP: #1520303)
Added Bengali description for landscapes and sky cultures (LP: #1548627)
Added support Off-Axis Guider feature in Oculars plugin (LP: #1354427)
Added support permanent rotation angle for CCD in Oculars plugin
Added type of mount for telescopes in Oculars plugin
Added improvements for displaying data in decimal format
Added possibility to drawing of permanent orbits of the planets (disables of hiding orbits for planets, when they are out of field of view). (LP: #1509674)
Added tentative support for screens with 4K resolution for Windows packages (LP: #1372781)
Enabled support for side-by-side assembly technology for Windows packages (LP: #1400045)
Added CLI options --angle-d3d9, --angle-d3d11, --angle-warp for fine-tuning ANGLE flavour selection on Windows.
Added improvements in Stellarium's installer on Windows
Added improvements in Telescope Control plugin
Added feature for build a dependency graphs of various characteristics of exoplanets (Exoplanets plugin)
Added support of the proper names for exoplanets and their host stars (Exoplanets plugin)
Added improvement for Search Tool
Added improvement for scripting engine
Added their Bayer designation for some stars in Scorpius (LP: #1518437)
Added updates and improvements in Stellarium DSO Catalog
Added Prime Vertical and Colures lines
Added new functions for Scripting Engine
Added new DSO textures
Finished migration from Phonon to QtMultimedia (LP: #1260108)
Added scripting function to block tracking or centering for special installations.
Added visualization of ephemerides
Added config option for animation speed of pointers (gui/pointer_animation_speed = 1.0)
Added implementation of semi-transparent mask in the Oculars plugin (LP: #1511393)
Added hiding the halo when inner planet between Sun and observer (or moon between planet and observer) (LP: #1533647)
Allow viewport offset change in scripts.
Allow centering zenith or pole via scripting (LP: #1068529)
Allow freezing/unfreezing average atmospheric brightness (e.g. for balanced-brightness image export scripts.)
Allow saving of output.txt to another file so that it can be read by other programs on Windows while Stellarium is still open.
Allow min/max values and wraparound settings for AngleSpinBox
Allow configurable speed and script speed buttons
Allow storing and retrieval of screen location for StelDialogs (LP: #1249251)
Reconfigure viewDialog GUI to put constellation switches to skylore tab.
Limit location coordinate spinboxes to useful coordinates
Apply Fluctuations in the Moon's Mean Longitude in DeltaT calculations (Source: Spencer Jones, H., 'The Rotation of the Earth, and the Secular Accelerations of the Sun, Moon and Planets', MNRAS, 99 (1939), 541-558 [http://adsabs.harvard.edu/abs/1939MNRAS..99..541S])
Applying device pixel ratio to the pixmap, so that it displays correctly on Mac's.
Added improvements for Paste and Search feature (Search Tool)
Added ecliptical coordinates info for objects in scripting engine
Added exit pupil calculation in the Oculars plugin (LP: #1500225)
Fixed display of sidereal time (mod24), show apparent sidereal time only if nutation is used.
Fixed issue of saving some setting from the View window (LP: #1509639)
Fixed issue for reset of number of satellite orbit segments (LP: #1510592)
Fixed bug in download of stars catalogs in debug mode (LP: #1514542)
Fixed issue with smooth blending/fading in ArchaeoLines plugin
Fixed loading scenes for Scenery 3D plugin (LP: #1533069)
Fixed connection troubles in Telescope Control Plugin on Windows (LP: #1530372)
Fixed wrong altitude of culmination in Observability plugin (LP: #1531561)
Fixed the meteor radiants movements when time is switched manually (LP: #1535950)
Fixed misbehaving zoom out to initial view position (LP: #1537446)
Fixed format for declination in AstroCalc
Fixed value of ecliptic obliquity and ecliptic coordinates of date (LP: #1520792)
Fixed zoom/art brightness handling (LP: #1520783)
Fixed perspective mode with offset viewport in scenery3d (LP: #1509728)
Fixed drawing reticle for telescope (LP: #1526348)
Fixed wrong altitudes for some locations (LP: #1530759)
Fixed window location having offscreen frame when leaving fullscreen (LP: #1471954)
Fixed core.moveToAltAzi(90,XX) issue (LP: #1068529)
Fixed some skyculture links
Fixed issue of sidereal time: sidereal time is no longer displayed negative in the Western timezones.
Fixed online search tool for MPC website
Fixed translation of Egyptian planet names (LP: #1548008)
Fixed bug about wrong rise/set times in Observability for years far in the past
Fixed issue for resets flip buttons in Oculars plugin (LP: #1511389)
Changed behaviour for drawing of the planet orbits (LP: #1509673)
Reduce planet brightness in daylight (LP: #1503248)
Updated icons for View dialog
Updated ssystem.ini (LP: #1509693, #1509692)
Updated names of stars (LP: #1550642)
Avoid false display of tiny eclipse factor (rounding error).
Hide displaying markers for meteor radiants during daylight
Cosmetic updates in Equation Of Time plugin
Enabled permanent visualization of position angles for galaxies
Updated default config options
Updated scripts
Updated connection behaviour for autodiscovery location through network (FreeGeoIP)
Implementation of quick turning to different directions (examples: CdC, HNSKY)
Refactoring coloring markers of the DSO
Removed info about Moon phases (avoid inconsistency for strings).
Removed rotation of movement by convergence angle correction in Scenery 3D plugin.
ОС:
Windows XP / Vista / 7 / 8 / 8.1 / 10
Скачать программу Stellarium 0.14.78.1 x86 (140,72 МБ):
Скачать программу Stellarium 0.14.78.1 x64 (143,38 МБ):