Портативный софт
,
Офис
EssentialPIM Pro 9.10.8
Многоязычная зарегистрированная и портативная версии в одном установщике!
EssentialPIM - высокофункциональный менеджер персональной информации с продуманным интерфейсом и множеством возможностей. Содержит средства для работы с календарем, списком задач, заметками и контактами. Есть широкие возможности для печати, импорта и экспорта информации, возможность запуска с переносных USB накопителей (включая U3 SmartDrive - сертифицированную версию), синхронизация с карманными компьютерами и смартфонами работающими под управлением WindowsMobile, PalmOS. Поддерживается 128-битное шифрование, экспорт/импорт данных из MS Outlook, Windows Address Book, расширенный поиск, различные опции печати. Также включает в себя инструмент для хранения контактов с неограниченным количеством полей.
Основные функции:
Модули: Ежедневник, Дела, Заметки, Контакты
Синхронизация с Outlook, Windows Mobile устройствами, Palm, iPOD, Google Calendar
Печать данных из любых модулей и удобный экспорт в популярные форматы (iCal, vCard, HTML)
Сильная криптозащита, использующая в том числе Advanced Encryption Standard (AES) algorithm
Удобный многоязычный интерфейс (включая русский и английский)
Возможности включают в себя:
Разворачивание и настройка за 10 минут.
Одновременная работа неограниченного количества пользователей с одной базой данных (для каждого пользователя требуется отдельная лицензия).
Каждому пользователю могут быть назначены свои права на изменение данных.
Приватные (личные) и публичные данные.
Возможность работать будучи в отъезде (без подключения к серверу) и при подключении к серверу (локально или через Интернет) синхронизировать данные.
Возможность подключаться к серверу через Интернет (необходимо наличие хорошего канала).
Отсутствие необходимости в покупке отдельного сервера (EPIM сервер может быть запущен на любом Windows/Linux/Mac OS компьютере).
Поддержка всех существующих add-ons.
Календарь
Красочный, легко читаемый список встреч с множественными видами: Месяц, Неделя, День, Год, Таблица.
Время начала и окончания, напоминания, выставление приоритетности, указание категорий (с возможностью создания новых) для каждой задачи.
Мощный поиск.
Интегрированная синхронизация с Microsoft Outlook и всеми популярными онлайн сервисами.
Поддержка перетаскивания (drag-and-drop) для удобного составления расписания.
Удобная печать или сохранение в HTML различных видов: День, Неделя, Месяц.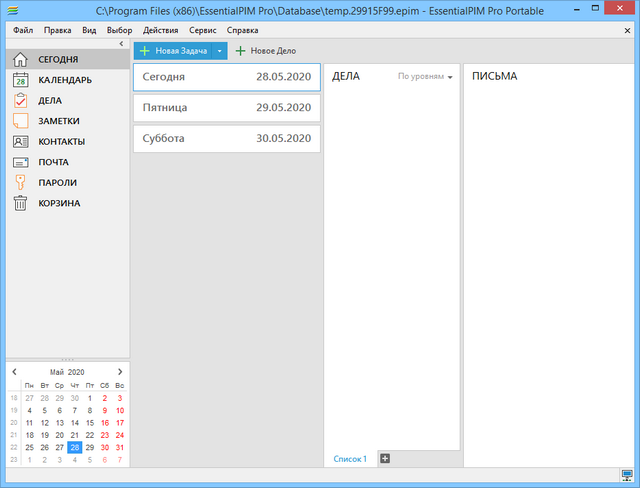 Дела
Древовидная, гибкая структура управления делами. Каждое дело может содержать описание, категории, приоритет, дату окончания и время напоминания.
Мощный и быстрый поиск.
Сортировка и фильтрация отображения на экране.
Настраиваемая печать.
Возможность назначать исполнителей для каждого дела.
Заметки
Широкие возможности по организации любой текстовой и графической информации. Листы, закладки, иерархическая структура - мощные инструменты для структурированного хранения данных.
Возможность хранить фотографии, рисунки, картинки, таблицы и форматированный текст в любых комбинациях.
Быстрый поиск по любым признакам заметки.
Широкие возможности распечатки данных.
Ссылки внутри документов.
Контакты
Группы - удобный инструмент для организации контактов.
Широкие возможности сортировки контактов по многочисленным признакам.
Возможность добавлять свои поля к уже существующему широкому набору.
Полный экспорт/импорт в CSV и vCard форматы.
Мощный и быстрый поиск по любому полю.
Почта
Полная поддержка POP3 и IMAP протоколов.
Интеграция с контактами и всеми остальными модулями.
Почтовые правила, расширенные настройки почтовых ящиков - всё, что вам необходимо для успешной и эффективной работы.
Пароли
Усиленное шифрование (Triple DES, Rijndael 256-бит, Blowfish 448-бит).
Древовидная структура для удобной организации паролей в группы.
Возможность создания собственных полей.
Дополнительные инструменты: генератор паролей, безопасное хранение данных.
История изменений
Изменения в версии 8.00:
It is now possible to delete any EssentialPIM item (appointment/contact/password entry, etc.) while having it open*
Tags explorer is a new powerful way to see all items that are tagged*
Search inside notes of each item (Ctrl+F)*
Copy text from read-only records*
Appointments/tasks templates can be renamed*
Week Agenda scrolling by a single day is added*
New info for contacts: Last contacted (received)/Last contacted (sent) picked up from email*
Create new tasks straight from Calendar*
Proper synchronization of deleted events in recurring series with Google Calendar*
Ability to select parent items when creating tasks and notes via shortcuts*
Style management improvements in Notes*
Improved conversion of email messages into other EPIM items (appointments, tasks, notes)*
Edit "Location" field
Add current date to most printouts from EssentialPIM
Copy, paste, cut commands added to toolbar in Notes
In Week/Week Agenda/Month/Year view now it is possible to manually drag events to place them in your custom order
Rule creation in Mail is made simpler right-click on a folder and select "Create Rule for Folder"
Setup individual SMTP servers for identities
Select custom sound for new mail
EssentialPIM's own adaptive anti-spam filter
Long-awaited advanced features to work with tables in Notes
Heavy improvements to Find and Replace dialog in Notes
Add custom fields for password entries
Create additional fields for the "Address" section in Contacts
Better display of recurring appointments in advanced search results
Better handling of attachments in mail
Better sorting of email messages (Re, Fw not taken into account)
On printing emails, a list of attachments is added
It is possible to insert links in email using right-click context menu
Month view easier viewing of all events for a day
New shortcuts to mark mail as Read/Unread, Synchronize All
Improved drag and drop of items in between the folders in many cases
Better search in most modules
Tag storage is moved into *.epim database (as opposed to storing it in *.ini files)
Improvements to modifying shortcuts
Numerous other improvements in all modules
Изменения в версии 8.01:
Improved linking of items and their availability under the related items tab
Due date for tasks should be working as expected in all cases now
Fixed issue with EssentialPIM sometimes starting outside monitor borders
Couple of tweaks regarding adaptive spam filtering mechanism
Reminders should now be correctly shown when EPIM starts up
Fixed couple of issues related to EssentialPIM Pro Business
Other fixes and improvements
Изменения в версии 8.02:
Tooltips and copy-paste functionality are back for tags
Ability to search for tags in the Select Tags dialog window
Select Tags window can now be changed in size, it also remembers its last position on the screen
Improvements in synchronization with Google services (Calendar and Tasks)
Couple of adjustments to the adaptive spam filtering mechanism
Optimizations for EPIM Cloud sync
Improved synchronization with Android EPIM for EssentialPIM Pro Business users with limited rights
Select Parent Item window for tasks and notes can now be made smaller or bigger
Improved sorting in Tasks with applied filters
Added ability to use the Split Cells feature for previously merged table cells in Notes
Fixed handling of email signatures containing links and pictures
Improved sorting of email messages by subject (for "Re: ", "FW: ", "Fwd: ", etc., prefixes)
Other minor improvements and bug fixes
Изменения в версии 8.03:
Optimized synchronization with iOS devices for faster speeds
Improved synchronization of recurring events with Google Calendar
Quick search now filters items correctly based on the selected criteria
Converting email messages into notes works as expected now
Search by tags is fixed in Notes
Improved the auto scaling feature for Calendar
Sorting of all day events by drag&drop in Calendar's Week view now remembers its order
Fixed issue with incorrect occurrences of recurring tasks
AV error in Newsletter is fixed in some rare occasions when trying to change font
Fixed canned responses in Mail as they were not always saved right after creation
Other minor bug fixes and improvements
Изменения в версии 8.04:
Made improvements related to Gmail and Outlook.com mail accounts
Other bug fixes and stability improvements
Изменения в версии 8.05:
Fixed issue with EPIM not responding for some IMAP mail accounts
Other stability and performance improvements
Изменения в версии 8.1:
Database Management window shows more information about size of data stored
It is now possible to use bullets/numbered lists in notes field of any module
Improved filtering on tags
Offline mode is now a property of database, not EPIM instance
Copy-pasting tags now works better
More convenient filtering on date column by choosing data range
It is possible to send item by email straight from Advanced search
It is now possible to compose newsletters in HTML
It is now possible to select which Google calendars to synchronise with
Synchronization of shared Google calendars is fully supported, including read-only ones
When deleting categories, it is now possible to delete all appointments/tasks
Table view in Calendar now has filter possibility
Birthday events have own category
It is now possible to change number of months shown in Year view in Calendar
Tasks panel in Calendar can now have grid and alternate lines
It is possible to filter appointments and tasks separately by categories in EPIM Today
Now it is possible to quick-reply to email
Advanced notifications about new mail in system tray, also in Windows Action Center
New additional view in Mail
It is now possible to export mail into PDF*
Showing pictures inside emails (inline)
It is now possible to export/import mail rules*
It is possible to change subjects for mail messages
It is possible to change order of fields for groups in Contacts
During import of contacts, it is possible to omit duplicates
Other minor changes, improvements and fixes
Изменения в версии 8.11:
Improved integrated into Windows Action Center new mail notifications
Better EPIM handling on systems with 2 or more monitors
Synchronization of formatted text in notes field for different type of items with Google services
Year view in Calendar now works correctly if more than 12 months is shown
Fixed couple of issues with Outlook.com service synchronization
Sending out workbooks via email directly from MS Excel should work as expected now
Couple of "mailto:" type of links improvements if called outside EPIM
Improvements with regards to synchronization of Google's read-only and shared calendars
Fixed other minor issues and omissions
Изменения в версии 8.12:
Quickly add mail folders to EPIM Today by right clicking on them in Mail
Optimized exporting of emails into PDF
Improved synchronization with iCloud, Google Calendar and Google Tasks
Much better scaling of email messages for high resolution monitors
Improved operation of EPIM in offline mode
Filtering of tasks by date now works as expected
Adjusted spell-checking feature in mail for better results
Improved movement of tasks and notes within trees using keyboard shortcuts
Fixed couple of issues related to quick filtering of email rules
Ability to jump to the results section in Advanced Search using the Tab key
No more visible source code when printing out items with bulleted or numbered lists
Fixed couple of issues in notes specifically related to inserted pictures
Fixed all other known minor issues
Изменения в версии 8.13:
Right clicking on an email address within message body allows you to add it straight into contacts
Optimized handling of complex email messages
Improved paste as plain text feature in Notes
Fixed couple of inconsistencies with Vertical view in Mail
Text background color in Notes will now be synchronized with Android EPIM
Fixed couple of minor issues with iCloud sync
Better performance of Advanced search
Improved printout of short calendar events
Read/Unread feature now works as expected in Mail
Overall stability improvements
Изменения в версии 8.15:
EPIM Cloud, Google Calendar and iOS synchronization improvements
Couple of fixes regarding Toodledo and SyncML synchronizations
Better automatic optimization of database files for the Business edition
Improved import of iCal files
Fixed vertical view layout in Tasks
Fixed couple of connection errors in Mail
Other minor fixes and improvements
Изменения в версии 8.50:
Save filters as templates in all table views*
Vertical layout added to Calendar's table view*
Create and print return envelopes*
Assign tags to email messages via message rules*
Save tasks and appointments as notes*
Assign shortcuts for styles in Notes*
Import tags from CSV files for contacts and password entries*
Add links into custom fields for items from any module*
Adjustable number of lines for tree tabs in Notes*
Add new fields in Contacts near first/last name section
Custom sorting of contacts and password entries via drag and drop
Option to automatically save email messages as they are being written
More compact and informative printing via Quick Print option
Remove hyperlinks easily via right click
Page numbers can now be included for printing
EssentialPIM can be set as a default app for EML and ICS file types
Zoom in/out email messages content form View menu
Simplified and easier approach to adding Outlook.com email accounts
Sort icons in Notes by using drag and drop
Print contacts as address cards
Option to keep search applied when switching folders in Mail
View tasks in Mail by enabling tasks bar
Install check spelling dictionaries from within EPIM's options
Sorting of message rules in Mail
Notes column in table views for appointments, tasks and contacts
Live preview of changes in Tools->Options->Appearance
Option to return to main view in Mail after deleting a message
Message rules in Mail now include carbon copy (Cc) field as a condition
Right-click on an image in Notes will allow more advanced options
Exclude dubious characters in passwords generator
Incremental improvements in synchronization with Android devices and Google services
Lots of other optimizations, improvements and minor bug fixes
Изменения в версии 8.51:
Mark appointments/tasks as completed using Alt+C shortcut directly from the editing dialog window
EssentialPIM remembers your last choice when adding attachments to items either as links or as files
Improved synchronization of tasks with Android EPIM
Saving of email messages into PDF files improved
It is now possible to print out tasks and appointments (table view) with as many columns visible as required
Better EPIM compatibility with 4K monitors and systems with multiple monitors
Fixed inconsistency with start/end dates in tasks
Import of vCard files into contacts works as expected now
Export of large number of events into iCal files will not produce the "Out of memory" error anymore
Drag&drop of pictures into notes and text within notes should work flawlessly now
No more errors during EPIM database encryption
Other bug fixes, crash fixes and overall improvements
Изменения в версии 8.52:
Improved synchronization of dates with Google Tasks
Faster search in table views in different modules
Synchronization of child notes with Android fixed
Improved links formatting for passwords
Copy-paste of bulleted lists in the notes field will work correctly
Size of the Notes module will now be correctly calculated in Database Management
Fixed inability to start synchronization wizard under certain conditions
Better shortcuts integration for Polish users
Switching in between Offline/Online modes works correctly for encrypted databases
Small improvements to the UI and other minor bug fixes
Изменения в версии 8.53:
Improved synchronization of tasks hierarchy with Android EPIM
Ability to re-arrange icons for notes is back (along with the recent icons section for more productive flow)
Double click anywhere within the Related Items tab to add a new link
Improved contacts and mail synchronization with Outlook.com
Better management of simultaneously connected users for EssentialPIM Pro Business
Option to auto lock the database when minimizing EPIM will not affect switching in between the modules anymore
Fixed error during installation in some rare cases when updating EPIM
Fixed annoying issue with the rightAlt+C shortcut for Polish users
Other minor fixes and improvements to make the program faster and more reliable
Изменения в версии 8.54:
Improvements related to synchronization and authorization with Google services (Calendar, Drive, Gmail, etc.)
Improved import of complex vCard (*.vcf) files
Opening of large emails for replying or forwarding should now happen faster
More consistent and anticipated behavior when altering tags from the Tags Explorer window
Reminder date will now be correctly displayed for events and tasks in all cases
Fixed task notes not always being saved properly with filters enabled
Better support of database files from legacy EPIM versions (prior to 7.x)
Fixed issue with adding new related items to appointments
Fixed AV error when copying-pasting tasks in EPIM Today if Consolidated view was enabled
Some adjustments made to the database for its better preparedness to the upcoming EPIM 8.6 version
Other minor bug fixes and product improvements
Изменения в версии 8.55:
Better integration with Dropbox (if you still get the "Dropbox file changed. Overwrite?" message, please sync your database over to the new one using EPIM Synchronizer)
EPIM Today UI improvements
Couple of minor fixes in synchronization with Google services
Improvements with Android synchronization
Inability to delete text in notes in rare circumstances
Send e-mail option now works for any types of contacts
Fixed missing notes for contacts after copy-paste
Problem with Unicode characters in mail should be fixed
Custom fields in contacts now store their updated values
Various minor bug fixes and improvements
Изменения в версии 8.56:
Improved synchronization with iCloud
Calendar appointments can now be edited directly again (without opening the appointment window)
A client PC will be able to automatically reconnect to server upon waking up from sleep for EssentialPIM Pro Business
Better synchronization with Google Calendar (for recurring events)
Fixed issue with getting focus on the various fields on the contacts preview screen
Fixed incorrect overdue dates when printing tasks from EPIM Today
Fixed printout of Unicode calendar events
Other minor bug fixes and stability improvements
Изменения в версии 8.6:
Global search and replace feature in Advanced Search*
Export notes into multiple individual files in one operation*
Dialer in contacts has been completely revamped to be compatible with VoIP apps*
Manually adjust locations of the to/from address areas for envelopes*
Auto checking of hyperlinks for broken ones within EPIM database*
Automatic capitalization of the first letter in sentences (can be turned off in spelling options)*
Option to auto create tags on double hash (##) only*
Select multiple appointments in calendar (Ctrl/Shitf + click) and move them simultaneously*
Ability to delete all existing synchronizations at once*
New editable shortcuts to quickly make items Read-only (on and off) and Private/Public*
Hierarchical structure of contact groups in the Membership dialog when assigning groups to contacts*
Choose which email address to use when selecting the Send E-Mail option in contacts*
Business version offers extended information about items and users that have access to them*
Import tasks and appointments from CSV files
Manage and pin autosaved subjects in mail
Increase/decrease font size using toolbar icons for mail and notes
Import of iCal files now respects time zone settings
See by how much the database file size is reduced after manual optimization
Display of additional recurrence info for appointments and tasks
Finding the right folder in mail is now easier
Additional months column in the Year view in calendar
Today should now be much more noticeable in all calendar views
Filter mail folders when creating message rules
Drag and drop files into Quick Reply in mail to add attachments
Empty subject warning when sending mail
Full WYSIWYG printing for monthly and yearly views in calendar
Notes are now stored in an archived form making the database file smaller and faster
A single installer for the Desktop and Portable versions
Other numerous improvements and fixes
Изменения в версии 8.64:
Improved authorization for some CalDAV/CardDAV servers and for Microsoft services
Ability to change Paste as Plain Text shortcut to your liking in Tools->Options->Shortcuts
Synchronization of tags with Toodledo
Alt+D shortcut for quicker deletion of entries in edit mode
Couple of improvements regarding synchronization with Android EPIM
Active list for tasks will now be remembered after switching to another module
Additional shortcuts added to Advanced Search (Alt+Letter)
Editing of mail subjects from the list view will now work as expected through long click
Improved tags assignation in notes
Fixed problem with inability to create new synchronizations with Google on some systems
Fixes for the number of connected users on EssentialPIM Pro Business
DNS errors when manually checking for new version should be gone
Fixed exception error when copy-pasting notes
Better handling of attachments in mail
Cannot connect to Microsoft Store error fixed
Many other minor fixes and improvements
Изменения в версии 8.65:
New tasks and notes will now be correctly created under the selected lists/trees
Ability to exclude read-only Google Calendars from synchronization
Authorization works again for Dropbox and Office365 accounts
Improved synchronization of appointments with iCloud
A shortcut to mark events and tasks as 100% complete when editing them is back (Alt+C)
Improved synchronization of addresses with Google Contacts
The number of opened EPIM databases in the recent files list increased to five
Regular and exclusive events are now visually distinguished in Day and Week calendar views
Export to Outlook should now work without issues
Fixed preview for newsletter when working with previously saved projects
Fixed white on white text color in some cases for items listed in EPIM Today
Other minor bug fixes, performance and usability improvements
Изменения в версии 8.66:
Import from Outlook improved (including correct import of nested mail folders)
Improved synchronization with Google Calendar
Couple of fixes related to the user access rights in the Business edition
Full contact address will be copied to clipboard by double clicking on the field's name
Undo option for notes now works more consistently
EPIM should now handle its window position correctly on the systems with 3 monitors
Fixed the "MESSAGEHASPARENT" error in mail with conversation option enabled
Other fixes and speedy performance improvements
Изменения в версии 9.0:
Dark theme
Colorful tags and ability to assign individual shortcuts to them
Anchors in notes
Mail rules significantly extended - new actions
New type of a custom field for contacts and tasks – Check box
Ability to print from Tags Explorer
Improved Insert Symbol dialog in notes
Option to auto delete old email messages for each mail folder
You can now sort message rules in mail by their modified date
Better handling of conflicts (when an item is changed on both sides) during synchronization
Path column for tasks to show their location during search
Set background color for note names
Ability to show vertical grid lines in all list views
New algorithms for processing attachments (smaller database size, faster access)
Improved highlighting of tasks shown in Calendar
Display of attachments for items in Trash
Many other smaller improvements and optimizations
Изменения в версии 9.1:
Option to change background color in notes (available in Tools->Options->Notes)
You will now be able to rename anchors in notes
Spam filter logic adjusted for more intelligent detection of junk mail
Print tasks in groups (by due and start dates)
Link to anchors through the Insert Hyperlink dialog window for easier and faster interaction*
Ability to delete multiple anchors in notes at once
Improved authorization and synchronization with Office 365 accounts*
Additional formatting options for multiple note names (Bold, Italic, Underline)*
Duplicate events should not appear for iCal subscriptions anymore*
Fixed issue with incorrect printing of Today on dark theme
Other stability improvements and known bug fixes
Изменения в версии 9.2:
Option to change background color in notes (available in Tools->Options->Notes)
You will now be able to rename anchors in notes
Spam filter logic adjusted for more intelligent detection of junk mail
Print tasks in groups (by due and start dates)
Link to anchors through the Insert Hyperlink dialog window for easier and faster interaction*
Ability to delete multiple anchors in notes at once
Improved authorization and synchronization with Office 365 accounts*
Additional formatting options for multiple note names (Bold, Italic, Underline)*
Duplicate events should not appear for iCal subscriptions anymore*
Fixed issue with incorrect printing of Today on dark theme
Other stability improvements and known bug fixes
Изменения в версии 9.3:
Set shortcuts for creating any type of new items (some users prefer to use Ctrl+N instead of the default "Ins" one, for instance)
Ability to set up default duration for new appointments through Templates*
"Save & New" button for easier and faster creation of all types of items in EPIM
Quicker and smoother transition from hours to minutes when typing in time for appointments and tasks (no need to use a separator symbol)
Use space bar in calendar to mark events as completed
Ctrl+Click and Alt+Click actions now also work for links in note names*
Completed events will now be easily distinguishable on all Calendar views
Improved synchronization of contacts and tasks with EPIM Cloud
Couple of optimizations regarding Advanced Search
Contact groups will now be correctly synchronized with Google*
Visual improvements for the dark theme
Synchronization of contact pictures with iCloud works again*
Fixed import of Unicode vCard (*.vcf) files into contacts
Printout of events from Today should work correctly now
Fixed issue with background color in mail
Several other improvements and minor bug fixes
Изменения в версии 9.4:
Improved synchronization with EPIM Cloud
Some optimizations regarding UI responsiveness in contacts
Fixed quick search and lots of other minor issues in notes
Switching the sender address in mail will now result in correct signature changes
Fixed an issue related to shared tasks in EPIM Business
Installation of new spell-checking dictionaries should now work correctly
Improved calendar data import from CSV files
Access violation error fixed when copy-pasting tasks
Many other minor bug fixes
Изменения в версии 9.5:
Filter tags in Tags Explorer*
Choose a default icon (or no icon as the default) in Notes
See the number of total and completed sub-items in Tasks, Notes and Contacts (enable this feature in Options for the latter two)
And / Or filter logic for tags*
Preview of attached PDFs in Notes will only be shown on the leaves the attachment was added into
Option to save lists and parents for tasks in templates*
"Go to Item" option in the context menu for appointments and tasks in Today
Reset grid lines and alternate lines colors in Options to default
Typing the "@" symbol in Sticky Notes will now allow you to quick link to other EPIM items*
Choose custom font colors for styles in Notes*
Alt-Click in Tags Explorer and Attachments Manager equals to the "Go to Item" option*
Hierarchy will now be completely preserved for recurring tasks*
Click on links in Notes with your mouse wheel to open them
Subscribe to password protected iCal calendars*
Improved highlighting of found items on the dark theme
Resetting the colors of leaves/trees in Notes and lists in Tasks will now work correctly
Fixed AV error when copy-pasting tasks
Other general bug fixes and improvements
Изменения в версии 9.7.5:
Ability to change a leaf in Notes a PDF file preview is shown on
You can now drag&drop words and phrases in Quick Reply section in Mail
Increase/decrease indent shortcuts now also work in Sticky notes
Improvements related to event reminders set on specific date/time
Couple of fixes with quick search in Notes
Fixed issues with tasks and events reminders not always working correctly
Sorting now works in Advanced search if found items were from a selected module
Many other minor improvements and bug fixes
Изменения в версии 9.8:
Drag&drop (supported) files into and from the notes tree
Options to not quote the text of the original email messages and to include only selected text when quoting text in replies or forwards, if any
Auto scaling of hours grid in Calendar's day and week views now works better than ever before
Letter bar in Passwords
Word count for multiple (selected) notes
Extended tooltips in the Calendar's month view with additional information about non-fitting events
EPIM now takes into account the "Change how many lines to scroll" Windows setting for mouse
Improved printout in Advanced Search for results from selected modules only
Fixed duplicate entries in Notes for some specifically added related items
General improvements and bug fixes
Изменения в версии 9.9:
All Inboxes feature in Mail
Keep your data always in sync with EPIM server for EPIM Pro Business edition even when working out of the office (set up here: File->Synchronization->EPIM Server)*
Synchronize your notes with OneDrive*
Paste as Quotation option in Mail for selected and copied text
Enable line numbers in Notes
See total and free space for IMAP mail accounts (right click on an account name and choose Properties)
Created and modified times in the status bar for Notes (click to switch)
See full hierarchy for matches in quick search for Notes and Tasks
Filtration of appointments in Calendar's Table view by Duration and Date range
Advanced "Bullets and Numbering" dialog in Notes
More secure authorization for Office 365 mail accounts (through OAuth)
Set up custom message headers as condition for message rules in Mail
Integrated the very latest changes introduced by Google for better, faster and more reliable Google Contacts sync*
Ability to resize a dialog with filtration options when the Filter feature is turned on*
UI improvements
Couple of improvements related to correlation of start/due dates and reminder times in Tasks
Easier and faster authorization for Dropbox related sync*
Fixed known bugs
Изменения в версии 9.9.6:
Improved synchronization with Google and OneDrive
More precise detection of encoding for email messages
Using the «@» symbol in notes for linking to other items in EPIM should now be fully operational
Fixed an issue when in some cases EPIM databases couldn't be uploaded to Dropbox
Printing of contacts shouldn't produce the Abstract error anymore
Improvements regarding user experience and fixes of minor known bugs
Изменения в версии 9.9.7:
A new criteria in Advanced Search for tasks: List of origin
Mark all email messages as read at once for All Inboxes (context menu item)
F1 key is now able to act as a custom shortcut (set it up in Tools->Options->Shortcuts)
Improved synchronization with EPIM Server and Google services
Speedy performance improvements when switching between different modules
Other minor fixes
Изменения в версии 9.10.1:
Ability to set up email reminders for appointments and tasks (available in advanced reminder settings)*
Schedule email messages to be sent later at specific date/time*
Under the hood changes that will make adding new mail accounts significantly easier and simpler
Improved how email messages with pictures included are saved as PDF files
Default notifications for appointments form Google Calendar will now be synchronized correctly
Couple of improvements about behavior of sticky notes when they're close to the screen edges
Synchronization improvements related to Google Contacts and to EPIM Cloud
Fixed Access Violation error when switching to calendar in some rare cases
Other optimizations, improvements and minor bug fixes
*Only in EssentialPIM Pro
Изменения в версии 9.10.7:
Better looking active tabs for tasks and notes
Optimizations regarding synchronization with Outlook.com and Google services
Improved quick search speed in Contacts
Couple of improvements about how email messages having different encodings are handled
Fixed an issue with the recurring icon not always visible for recurring tasks
Drag and drop of events within Calendar now works as expected for users with regular rights connected to EPIM Pro Business
Fixed a problem with EPIM not responding upon start in some rare cases
Изменения в версии 9.10.8:
Support for virtually an unlimited number of simultaneous iCal (online calendar) subscriptions
Much quicker synchronization with Google Contacts
Improved overall performance (including search) for the Notes module
EPIM will not hang upon start or when switching to the Mail module for the users with these problems on earlier versions
Changing sync interval with Google Calendar will not produce duplicate entries anymore
Couple of optimizations related to the data file structure (for performance improvements and to better prepare it for the upcoming 10.0 version release)
Other minor fixes and improvements
Особенности версии:
Тип: установка, распаковка portable
Языки: мульти, есть русский
Лечение: проведено [vovan666, pawel97]
Вырезано: справка
Дополнительно: подхват настроек из файла EPIM.ini, русский и украинский словари проверки орфографии
Ключи командной строки:
Тихая установка: /S /I
Распаковка portable: /S /P
Выбор места установки: /D=ПУТЬ
Ключ /D=ПУТЬ следует указывать самым последним
Например: EssentialPIM.Pro.9.exe /S /I /D=C:\MyProgram
ОС: Windows XP/Vista/7/8/8.1/10
Скачать программу EssentialPIM Pro 9.10.8 (22,17 МБ):
Этот блок был удален по требованию правообладателя. Если вы считаете, что это ошибка, обратитесь к
Администратору
.
KpoJIuK
15/11/21 Просмотров: 38319
+30