Интернет и сеть
AbleBits Add-ins Collection for Outlook 2021.1.682.2401
Английская зарегистрированная версия!
Мы собрали наши лучшие надстройки для Microsoft Outlook в одну коллекцию, чтобы раскрыть всю мощь вашего почтового ящика и улучшить рутину работы с электронной почтой. Настройте свой Outlook с помощью множества замечательных функций, таких как шаблоны электронной почты, автоматическое заполнение строки CC или BCC, проверка электронной почты перед отправкой и многое другое.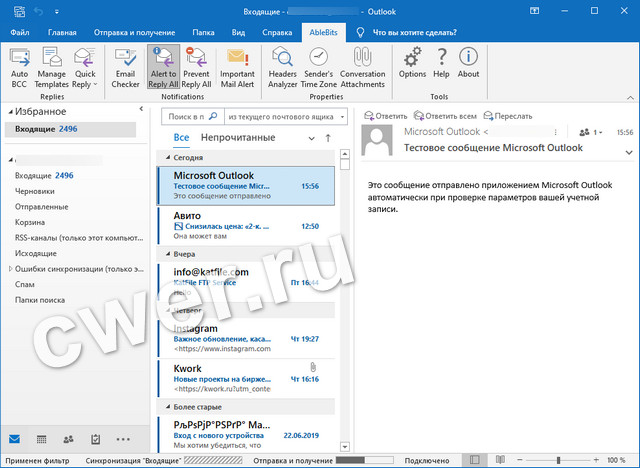 Create simple rules to add CC or BCC addresses to your email
Sending copies of your emails to the same people can be really time-consuming and tiring because you have to enter their addresses to the CC or BCC line in Outlook again and again. Besides, there's always a risk to forget to copy your boss or colleagues on a really important email. In Add-ins Collection for Outlook you will find a solution that automatically fills CC and BCC fields so that you don't have to type each person's email address time after time. Simply create a rule in a few clicks and forget about adding CC or BCC emails. Also, you can always BCC yourself, or the entire distribution list.
Spend less time on writing emails
If you are a support service assistant, sales manager, or just extensively use email in your daily work, Template Phrases for Outlook will save hours of your precious time on composing and proofreading the same messages. All it takes is to create a collection of templates and adjust such details as text formatting, hyperlinks, images, attachments, and signatures. Then you just need to double-click to use these ready-to-paste text snippets in your replies. It's also possible to share your Outlook email templates with colleagues, search them on the plug-in pane and add to favorites.
Check emails before sending
Each time your mouse pointer hovers over the Send button, you need to check your email for dozens of critical mistakes that can affect your image and the image of your company. If you are prone to sending rapid fire emails without proofreading them, Outgoing Email Checker for Outlook will be your life saver. It always notifies you to attach a file in Outlook, add a proper salutation, use the correct address in the To field, send your email from the right account, or blind copy your manager. With dozens of things to check before sending an email, one handy reminder add-in will make your messages flawless.
Avoid "Oh, no!" after sending an email
If you frequently send and receive multi-recipient emails, the Reply All functionality in Outlook may be a big trap for you. Whether you need to always hit the Reply All button, or try to avoid sharing emails with unintended recipients, Add-ins Collection has a solution for both. Just press the Alert to Reply All button to make sure you include all initial addressees, or click Prevent Reply All to stop accidental email replies.
Manage all attachments of an email thread from one pane
Often long email communication involves dozens of attached files like images, invoices, PDFs, Word, or Excel documents. If you need to work with attachments, clicking through dozens of emails may be a really frustrating task. The Conversation Attachments add-in makes working with attachments in Outlook truly efficient by displaying all files from an email thread in one pane.
Get untied from your inbox
Picking out the most important emails from the piles of incoming messages may be a real problem. Important Mail Alert will help you keep track of the emails that need your immediate attention. It shows a notification on top of all active windows as soon as most urgent and significant emails arrive. With this smart solution the important stuff gets through to you and you don't need hover over your inbox 24/7.
View and customize the time zone of the message sender
If you often communicate with people outside of your time zone, Sender's Time Zone is for you. It stops you from replying to an Outlook email at an inappropriate moment which can make the recipient less likely to open your message. The tool shows you the local time of the sender and when the message was sent.
Unhide and parse email headers in Outlook
Every single email contains Internet headers that deliver details about the web path the message takes between the sender and recipient. The headers show various issues that may require your attention, such as delivery delays or failing to get through the spam filters. However, in its original format it is fairly hard to read. Thus, we have included the Email Headers Analyzer tool into the collection to display the information in a user-friendly layout and help you troubleshoot mail delivery problems.
Outlook:
Outlook 2019
Outlook 2016
Outlook 2013
Outlook 2010
Outlook 2007
Desktop Outlook included in Office 365
Desktop Outlook included in Office 365 ProPlus
ОС: Windows 10, Windows 8/ 8.1, Windows 7 (32-bit and 64-bit)
Скачать программу AbleBits Add-ins Collection for Outlook 2021.1.682.2401 (40,2 МБ):
MANSORY
26/01/23 Просмотров: 1425
0